What is Supraventricular Tachycardia?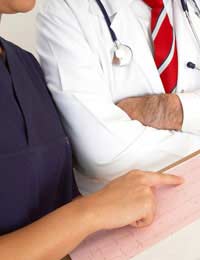 SVT or supraventricular tachycardia is a name given to a fast heart rate that stems from an area located above the ventricles, which are the lower two chambers of the heart muscle. In a normal heartbeat, the electrical impulses are initiated from the sinoatrial node in the upper part of the heart, in the presence of SVT, these impulses are overridden by the area supra (above), the ventricles.
What causes SVT?
In most cases of SVT, there is no apparent cause and it can occur in anyone of any age, especially in childhood or as a young adult.
Signs and Symptoms
There are many symptoms that accompany SVT including dizziness and light-headedness, a fast heart rate, sometimes double or more of it's usual speed, feelings of palpitations, and chest pain in the presence of other cardiac conditions.Some people may not experience any noticeable symptoms and until investigations are undertaken for other medical conditions, may go undetected for some time.
Diagnosing SVT
SVT is most commonly diagnosed following an electrocardiogram, which monitors the electrical activity in the heart that can be read and interpreted by a trained professional. This normally occurs after the person has visited their GP with the symptoms listed above, or as part of a routine health check that depicts a fast heart rate and is investigated.This test can be performed over a period of time such as twenty four hours, which aims to identify patterns of SVT episodes, or times when it is aggravated.
Treatment For SVT
As episodes of SVT may be isolated incidents and will be of a very short duration, often no active treatment is needed and the condition will be monitored by the individual themselves and further occurrences reported to the doctor.If however episodes are frequent, of long duration or worsening in severity, medical intervention will be necessary. Certain medications such as adenosine can help to interfere with electrical activity and act as blockers to these impulses. Any previous or existing medical conditions must be discussed with the attending physician as some of these drugs are not recommended in the presence of other medical problems. These types of drugs are especially good for preventing further episodes of SVT.
Occasionally the use of cardioversion is needed to correct the defect in the electrical activity conduction. A cardioversion is a type of electric shock treatment that aims to put the heart back into its normal rhythm. It is performed in very small doses in a highly controlled environment by professional personnel.
If the SVT has triggered an attack of angina, as this is common in those with existing angina, discussion with your doctor will need to take place to prevent future episodes occurring that may be very dangerous.
In very rare circumstances the use of a more invasive intervention is needed; this is usually in the form of a catheter ablation. During this procedure, a tiny wire is directed to the heart using x-rays and destroys the area of tissue responsible for triggering the ventricular tachycardia. This can only be performed if the particular tissue causing the trigger has been identified and located.
SVT can be a non-serious and isolated episode, or it can be prolonged, worsen and trigger attacks for angina. Any cardiac condition should be discussed with your doctor to prevent future occurrences or to rule out serious conditions.
You might also like...