Wolffe-Parkinson-White Syndrome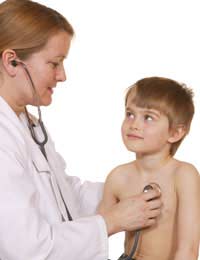 This condition, which affects mainly the very young, causes a fast heart rate and irregular pattern of heart beats. It can be present at birth but may go undiagnosed until adult life whilst testing for other illnesses or during routine screening processes. It can carry no symptoms and be relatively harmless, or can be highly problematic and lead to serious complications.
Causes Of Wolffe-Parkinson-White Syndrome
A normal healthy heart beats due to electrical impulses initiated by the sino-atrial node located in the upper right atrium, the impulse is transmitted to the atrio-ventricular node from where it is conducted down the bundle of his followed by the right and left bundle branches.
In the instance of Wolffe-Parkinson-White syndrome, an extra conduction pathway is present causing the signal to reach the ventricles too early causing the timing of the beating heart to become disturbed, this occurrence is called pre-excitation.
Signs and Symptoms
For those suffering from this condition symptoms can be varied and may differ in severity. For some there may be no apparent symptoms, for others symptoms can include dizziness, feeling faint, or rarely a cardiac arrest can occur.
As this condition causes the heart beat to beat faster than normal, known as tachycardia, the person may feel palpitations or feelings that their heart is racing, even while at rest.It is more common in infants and children and accounts for most of the occurrences of fast heart rate in this group.
Infants suffering from the condition may experience breathlessness and develop changes in their feeding pattern, often causing the parents or carers to seek medical advice.
Treatment Options
As many people are unaware of the condition, the syndrome may be detected on an electrocardiogram (ECG) whilst being tested for other condition or as part of a routine procedure prior to surgery or other medical interventions. It is seen as changes on the ECG and the doctors will normally request further investigations to confirm the condition.
If there are no symptoms the person may be unaware they have the condition and will not need or receive any treatment as they are ignorant of the occurrence. For others the tachycardia can often be treated using drugs, though this may not be adequate for everyone.
In this instance, further intervention is needed, normally using a catheter that is directed to the area containing the extra conductive pathway. The catheter is guided to the appropriate area using x-ray technology and once at its destination radiofrequency waves are passed to the tip aiming to destroy the affected tissue. Once this has been achieved medications and further interventions are not normally necessary.
For some, cardioversion may be necessary during which the heart is gently 'shocked' aiming to correct the electrical impulses back into a normal and regular pattern. This is carried out under very controlled direction by professionals and is often successful.For a small minority, the condition may need correcting using open heart surgery, during which the affected area containing the additional pathway is destroyed under direct observation.
Wolffe-Parkinson-White syndrome is a condition that causes a fast heart rate caused by the presence of an additional pathway that conducts the electrical impulses through the heart tissues.
You might also like...