Laser Surgery for Coronary Artery Disease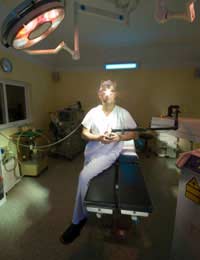 Coronary artery disease increases the risk of developing angina and of having a heart attack. Fatty plaques, known as atheroma, build up on the inner walls of the arteries. This causes narrowing of the blood vessels and makes it more difficult for blood to get to the heart. This can cause a steady pain, which comes on when during exercise or stress. Angina can be a sign that you are at greatly increased risk of a heart attack, but sometimes, heart attacks occur out of the blue with no warning at all.
Today, many treatments are available to counteract the effects of coronary artery disease. Balloon angioplasty and stents can remove the fatty plaques and reduce the narrowing in the coronary arteries. A major operation, a coronary artery bypass graft (CABG) can take healthy blood vessels from elsewhere in the body and use them to bypass the damaged arteries, restoring a healthy blood supply to the heart muscle. Some people, however, are not suitable for these procedures; they may have other serious conditions or may not be generally well enough to undergo a CABG operation.
Laser Treatment; A New Option
A less invasive treatment has recently been developed that does not cause as much stress to the body but that can still increase the blood supply to the heart in people with coronary artery disease. This can reduce their risk of having a heart attack and can also make them feel much better, as angina symptoms disappear.
The treatment involves lasers and its full medical description is Transmyocardial Laser Revascularisation (TMR for short). A laser is used the punch tiny holes in the myocardium – the heart muscle – to encourage a greater flow of blood and also to stimulate the development of new blood vessels. This revascularisation is a natural healing response that occurs in the heart when it detects damage to heart muscle.
Who Can Benefit from TMR?
TMR can be used to treat the pain of angina that persists in people who have already had a balloon angioplasty and stent. Very elderly people, or people with kidney disease, other heart problems, liver disease or other health problems are not always able to withstand the very long operation to bypass their diseased coronary arteries. The risks of the operation are too great and outweigh the potential benefits.
Sometimes, the coronary arteries are so badly affected by fatty plaques that the TMR laser treatment will be done at the same time as a CABC operation for maximum therapeutic effect.
What Does TMR Involve?
TMR is a lesser operation than a coronary artery bypass graft but it is still a major medical procedure that needs a general anaesthetic. The laser needs to be directed at the heart muscle, so the chest still needs to be opened up so that the surgeon can gain access to the heart. Once this has been done, a high energy carbon dioxide laser is used to punch around 30-40 holes around 1mm in diameter in a specific region of the heart muscle. This is usually done using a computerised system to target the area very accurately.
The part of the heart that is usually given the laser treatment is the left ventricle, the main chamber of the heart that pumps blood around the body. Increasing blood flow and muscle function here will have the greatest impact on symptoms.
Unlike in a CABG operation, the heart does not have to be stopped and there is no need for a heart and lung machine. The laser treatment is actually timed within the natural heartbeat, with most holes being punched between the heartbeats, during the short time that the heart muscle isn't moving.
Recovery from Laser Treatment
A TMR operation usually takes between one and two hours. Recovery times are therefore much faster than with the more extensive CABG. Afterwards, there should be early improvements because the blood flow to the heart is increased but symptoms should get ever better of the weeks and months after surgery. This is because the laser damage stimulates a process called angiogenesis. This encourages new blood vessels to sprout from the healthy ones still in the heart, increasing blood flow further as healing takes place.
You might also like...
I am 64. After my Congestive Heart Failure diagnosis in 2009 my first symptom were feet swelling, energy loss and chest pains. Suddenly I got weak and dizzy and had severe shortness of breath. My blood pressure was 200/100, respiration was 28 with oxygen saturation of 88 percent. I was extremely short of breath. My doctor started me on blood pressure medications, Lasix and nitroglycerin, the medications helped but not much. In January this year my PCP referred me to Rich Herbs Foundation, i immediately started on their natural organic CHF FORMULA treatment. I had a total decline in all symptoms including the leg and feet swellings, shortness of breath, fatigue, weight problems, excess urination, chest pains and others. Visit Rich Herbs Foundation web page ww w. richherbsfoundation. com. The CHF treatment totally reversed my congestive heart failure condition and most amazingly i can go about my daily activities!
lucyLOOOA
- 4-May-18 @ 2:42 PM
I want to informed everyone about this great doctor from africa who has made me a new person by curing my Coronary Artery Disease (Ischemic Heart Disease), i know billions of people have suffered this deadly diseases. on may 2015 a friend of mine introduce this powerful doctor to me, and said he is capable of helping me since he was shown on the Tv News, Dr olorun who has been helping people about this disease, so i decided to contact him since i have no choice, i call him firstly and also emailed him too, when he responded he gave me all the guarantee of helping my sickness and also to make things comfortable for me after he work for me, which i really obeyed with, dr olorun is a great african medicine man who finally heal me from Coronary Artery Disease (Ischemic Heart Disease), in just 7 days. am so happy. Ellen my friend, thank you no matter where you are, you brought joy into me, may almighty God bless you always for me, what hospital pills could not stop african doctor has cured it and now i am living fine, if you have this Coronary Artery Disease (Ischemic Heart Disease), and you need a cure please wait for no one, email dr olorun now for fast result at : Olorunoduduwaspiritualtemple @g m ail .c om
Mariahay7
- 9-Mar-16 @ 10:53 AM
I got MI in 2007 at the age of27 while climbing stairs. This was AWSMI,stenting done by Dr.Shahis Nawaz Malik (late) in PIMS Hospital Islamabad Pakistan. Two sypher stents deployed in LAD and LCX 95 % and 99% blockage respectively. Every Day pass increas my knowledge about my deaease. Now i facing raise cardiac enzymes which is flyctuating dramatically that one sample contains value of 38 while in next sample quit normal upto19. Normal value is 24. So plz let help me what could be the reason. More, after unfotunate murder of Dr. Shahid Nawaz Malik i am not satisfied with any consultant here in Pakistan.
Ali
- 16-Dec-15 @ 3:04 PM