Suffering From Endocarditis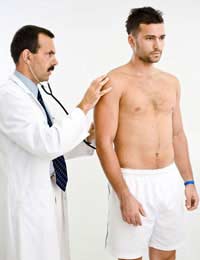 The inner layer of the heart is comprised of the lining of the heart known as the endocardium, the muscle itself and the heart valves. If this inner lining becomes inflamed, it is called endocarditis. Quite rare and potentially very dangerous, it occurs in more men than women usually in those over middle age, and is more likely in those who already have a cardiac condition, especially problems with their heart valves.
What causes Endocarditis?
As the heart valves within the inner chambers of the cardiac muscle do not have a blood supply of their own, they have no defence against infection, as it the white blood cells that cause these defence mechanisms, they can develop bacterial infections very quickly. These organisms can enter the body through various means, but sometimes something as simple as brushing your teeth, especially when the oral cavity tissues are damaged, can introduce them to your system. This process is made particularly easy if there are already defects of the valves themselves, or if an infection is already present elsewhere in the body.Once the bacteria have made their way to, and established themselves on the valves and surrounding anatomy, these tissues can become inflamed causing endocarditis.
Very rarely a fungal infection can be to blame, as can the introduction of foreign bodies or devices to the system such as the needles used in intravenous drug abuse, surgical implants and instruments or even from a urinary catheter that can introduce infection to the internal tissues of the body.
Signs and Symptoms
Endocarditis can either develop quickly, called acute endocarditis, or can develop gradually over time, known as sub-acute endocarditis. Symptoms for either can include, but are not limited to, chest pain, an increase in body temperature, increased sweating, feeling chills, aches and fatigue, headaches and shortness of breath and will vary in severity depending on the extent of the inflammation and the amount of bacterial infection present.
Treatment for Endocarditis
As with most infections, a course of anti-biotics will be necessary, but as this type of infection and inflammation concerns the cardiac muscle, these drugs will often be given intravenously in hospital so they can work quickly.
In the incidence of severe acute endocarditis, a specialist heart doctor will often want to review you, sometimes recommending the option of surgery if the heart valves are damaged and not functioning properly, if the anti-biotics do not work effectively or quickly enough or if the bacterial growth has developed to a large extent.Surgical options can include replacing the valves if they appear to be irreparably damaged or repairing them and eliminating the infection during surgery.
If treatment is not sought, or treatment plans not followed, serious complications can arise such as heart failure, irregular heart rhythms and the spread of infection to the rest of the body; each of these problems can be extremely dangerous and should be avoided wherever possible.
Preventing Endocarditis
It is essential to tell any medical personnel or dentist of any existing medical conditions especially those concerning the heart and lungs as extra precautions may need to be taken before administering any treatments or dental work, aiming to avoid the introduction of bacterial organisms to the body.
If you have known problems with your heart valves, care should be taken when undertaking any activities so as to avoid injury or trauma that might introduce bacteria to the system.If you have an existing infection, always treat this immediately in the appropriate manner.Always ensure the provision of personal protective equipment is used to avoid unnecessary exposure to bacteria.
Although most people recover from endocarditis, it remains a potentially life-threatening disorder due to the complications that can arise if left untreated. Any episodes of chest pain or breathlessness require immediate medical attention so that accurate diagnosis and treatment can be given.
You might also like...