What is Pericarditis?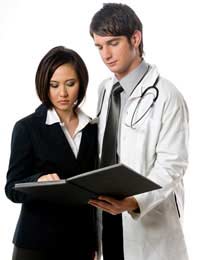 Surrounding the heart and separated by a thin layer of fluid are two protective layers of tissue, called the pericardium. They serve to protect the organ from infection, sudden movements and to keep it stable in the correct location. If this tissue becomes inflamed, it is known as pericarditis and can cause an increase in the volume of fluid that separates the two layers (pericardial effusion), leading to pressure on the heart and an inability to function properly.It can affect anyone but is most commonly seen in men aged between 20 and 50 years.
What Causes Pericarditis?
Pericarditis is usually seen as a consequence of a viral infection but may be due to or related to more serious disorders such as renal (kidney) failure, metastatic disease (from tumours in other parts of the anatomy), as a side effect of radiation therapy or following cardiac problems such as a heart attack. It is sometimes seen in those who have disorders of their immune systems and can be due to a reaction to certain drugs.
What Are The Symptoms Of Pericarditis?
The most obvious symptom of pericarditis is to feel chest pain. This may pain be of acute onset and be of a sharp and stabbing nature, or may be a constant pain. It is invariably felt in the central area of the chest though can bear slightly towards the left side, or radiate to the neck and shoulders. This pain is due to the pressure caused by the excess fluids that have collected and also from the lungs and associated structures coming into contact with the inflamed tissue hence causing further irritation.
Many sufferers of pericarditis suffer from breathing difficulties and a dry cough, especially when they lie down, or notice some swelling of the lower extremities accompanied by a raise in body temperature and increasing tiredness.
Treatment Options
Immediate treatment of chest pain should be to rest and seek medical attention, it may be an emergency and an immediate diagnosis and appropriate treatment will be needed, especially if breathing is significantly affected.Once pericarditis has been confirmed, the normal treatment will be to administer anti-inflammatory medication and a painkiller. Aspirin is often one of the most effective drugs, though it can carry side effects, which should be discussed with your practitioner. Sometimes steroids or immunosuppressant drugs will be suggested for those who cannot take some of the types of anti-inflammatory preparations, and very rarely the increased fluid between the tissues will need to be drained away to alleviate the external pressure on the heart and allow it to regain its former ability to function effectively.
If it is thought that the pericarditis has occurred as a result of taking other medications, alternative options or amended dosages should be discussed with your GP to try and alleviate this side-effect.Swollen feet and ankles can be treated by resting and elevating the affect limbs, preferably above the level of the heart to help drain the excess fluid away.
Pericarditis can carry similar initial symptoms as other more serious conditions of the heart, so if extreme levels of unexpected pain are experienced accompanied by difficulty in breathing, immediate medical advice should be sought to rule out potentially life threatening conditions.Once pericarditis has been diagnosed and appropriate treatment has been prescribed and followed, it should dissipater without any long-term problems.
You might also like...