Facts and Figures: Heart Disease Worldwide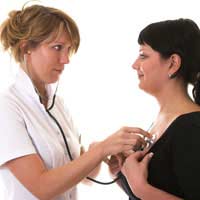 Heart disease and cardiovascular disease are very big killers worldwide and will become one of the leading causes of death in developing countries by 2020. While infectious diseases are being reduced by health measures, diet and lifestyle changes as countries become more affluent are leading to higher rates of atherosclerosis, heart attacks and strokes.
World Facts and Figures on Heart Disease
The World Health Organisation's latest figures show that 17 million people die each year from cardiovascular diseases. The figures take a long time to put together, so the most recent year we have reliable figures for is 1998. In that year over 7 million people died from a heart attack and just over 5 million died from a stroke, with 15 million more surviving but disabled.
Cardiovascular disease accounts for a third of all deaths that occur in the world and nearly 80 per cent of these were in lower income countries, not in the affluent west. The picture of an overweight, white stressed business executive being the type of person who has a heart attack is no longer true, if it ever really was.
Which Countries are the Worst Affected?
Different countries around the world have very different rates of cardiovascular disease. Finland is one of the worst places to live – 835 people out of every 100,000 of the population there succumb to heart disease. China, with 81 per 100,000 people affected, has one of the lowest rates. Women as well as men suffer heart attacks and other forms of cardiovascular event – the highest rate in the world is seen in women in Scotland, with the lowest in Catalonia in Spain.
European Facts and Figures on Heart Disease
Cardiovascular disease already kills more people in Europe than any other single cause of death. Over 4 million people every year die from heart disease or stroke. Women are more likely to die than men – 55% of the people who died from cardiovascular disease are women. In the European Union in 1999, over 2 million other people in that year were treated in hospital for cardiovascular disease but survived to be discharged. Over 600,000 more suffered coronary heart disease and over 350,000 had a stroke.
Heart Disease in the UK
The United Kingdom has one of the highest rates of cardiovascular disease in men and women of anywhere in the world. Coronary heart disease killed 125,000 people in the year 2000 and it is estimated that one in every four men and one in every six women die from heart disease. In total, at any one time, over 1.3 million people in the population of the UK are alive because they have survived a heart attack.
Angina is also a big problem. There are about 330,000 new cases of angina diagnosed in the UK every year, slightly more of them in men than in women. At any one time, around 2 million people are living with the symptoms of angina.
Medical technology to sort out the problems of cardiovascular disease have advanced significantly in the last few years and techniques such as coronary bypass operations and angioplasty procedures are now very common. In 2000, nearly 25,000 people had coronary artery bypass surgery and nearly 30,000 had an angioplasty.
Heart Disease in Developing Countries
As health improvements and industrialisation come to developing countries, they also start to adopt what are considered 'western habits' such as smoking, less physical activity and a diet rich in fats and fast foods. People in developing countries suffer less infectious diseases (although this is by no means a problem solved) and so live longer. All these facts work together to make cardiovascular disease a major problem in the developing world, and one that is getting worse.
Infections still cause some problems that make heart disease prevalent in younger people. Rheumatic fever, for example, causes up to 40% of all heart disease seen in developing countries and is a common cause of heart problems in children.
Social Impact of Heart Disease
Whatever part of the world someone lives in, cardiovascular disease tends to strike people in their 50s and 60s, a time when they could be economically productive and are important to their family unit. This has a significant impact on people, their relatives and on the society in which they live.
You might also like...