Heart Health for Kids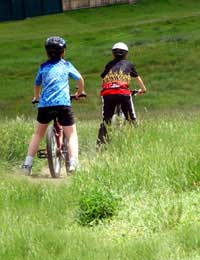 Looking after your heart is a serious business and something that most of us could do slightly if not a lot better. Keeping your heart healthy should be part of life and education cannot begin early enough.If youngsters are taught about the dangers of neglecting the heart from an early age, chances are they will adopt a healthy lifestyle or at least some degree of awareness that can be carried through life.
How To Teach Kids About Heart Health
There are several ways in which education can be given that shows ways in which the heart can be looked after. Teaching about heart health does not mean that it has to be given in lecture form or include too much complicated language and terminology.Simple methods given regularly should be enough to ensure your child is heart-aware.
Exercise
This is something that has become a hot topic in recent years.Fears about safety and a huge surge in the availability of computer games have meant that a lot of kids are not getting active frequently enough. By providing time and interest that includes fitness and physical activity, your kids will keep their heart healthy and also keep their muscles toned and their bones strong.Many parents believe that their child will receive enough physical education whilst at school but in reality this just isn't so. With the large amount of academic work needed to be completed (especially in secondary schools), a lack of time, equipment and teaching expertise may mean that even though the time allocated to this subject is shown on the curriculum, the amount of actual time the child is exercising and the quality of this activity are not necessarily enough to keep kids heart healthy.
Play/Games
Children, especially younger ones learn best through play so using games and imagination that involve the human body or teach about cholesterol, heart disease or other problems of the heart will mean they are learning without even probably being aware of it.
Reading
Always make sure there is plenty of reading material available for your children. Not only will this help pass the rainy days but will encourage your child to learn about the human body and hopefully take more of an interest in maintaining the health of their own body and being responsible for its future health.Even young children and babies will benefit from having books around even if they are only picture books. In fact this may even be better than a simple text as pictures can help put a visual image to the terms and names of the body that we use but cannot see and this is often confusing for children. By seeing pictures they are more able to understand what a heart is, how it works and what happens when it is not looked after such as the effects of cholesterol build-up or smoking.
Diet And Cookery
This is one area that parents and carers can take on a huge role and be a great influence.By encouraging your child to experience a range of tastes and also to encourage them to help prepare meals, they will be more likely to enjoy different foods which allows them to take a wider and more varied diet which usually means a healthier diet.
They will also know different methods of food preparation other then frying for example so will be able to eat foods that do not contain large amounts of fats.It may be that by spending extra time in the supermarket helps your kids understand the properties of foods, their contents and how they affect the human body. Taking your kids shopping needn't always be a stressful experience when in fact it can be used as a time for learning, experimenting and spending some quality time together.
Looking after your heart is essential and it is time we took more responsibility over our health. By teaching kids and making them more aware of the dangers of neglecting the heart we will hopefully be able to ensure that the next generation stay healthier and happier for longer enjoying a fit and active life free from illness.
You might also like...