What is Cardiogenic Shock?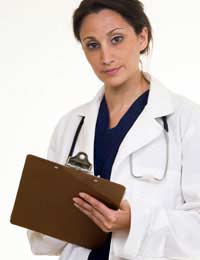 This term is given when the blood supply to tissues becomes compromised leading to the demands of the tissues not being met. As blood carries oxygen and nutrients, tissue damage can occur if these needs are not fulfilled.
Cardiogenic shock occurs as the blood is not being pumped out efficiently by the heart muscle. This is due to problems concerning the ventricles which are the lower chambers of the heart muscle responsible for pumping blood away from the heart.The heart muscle can become damaged in a number of ways including as a consequence of heart attack, arrhythmia, cardiomyopathies and problems with some of the valves.In the case of a myocardial infarction being the leading cause, the heart muscle is not performing effectively, and though the blood volume is not depleted, such as in bleeding after a trauma, it fails to reach tissues effectively.As tissues become oxygen depleted, cell death can occur, leading to further heart attack if the heart muscle becomes oxygen depleted or tissue death in other parts of the anatomy. Total tissue death cannot be reversed and damage can be permanent, with the possibility of sudden death. The most severely affected organs are the heart itself, brain and kidneys.Because many of the causes of cardiogenic shock occur in the elderly or those who unhealthy lifestyles, these groups of people are more at risk of suffering from cardiogenic shock.
Signs and Symptoms
Initial symptoms of cardiogenic shock can include becoming restless, anxious with confusion; this happens become the brain is lacking in oxygen.The pulse rate may rise and blood pressure drops as the blood is not being pumped effectively; this can cause faintness and dizziness to arise.The fingers and toes may appear dusky or with a blue tinge as blood is not reaching these areas and the little that does carries a very small amount of oxygen at this stage.Nausea and vomiting are fairly common and chest pain is likely to occur if the heart tissue is affected either because of the causing myocardial infarction, or because these tissues are not being well perfused.
Treatment for Cardiogenic Shock
The treatment options for this condition vary depending on the cause of the problem.A myocardial infarction (heart attack) can carry a variety of causes and severities, each requiring individual treatments.A general overview of treatments includes oxygen therapy, administration of intravenous fluids to try and raise blood pressure and volume aiming increase the perfusion of the extremities.There are drugs available to increase the mechanical pumping action of the heart and the treating physician will decide which of these is the most appropriate often in conjunction with anti-arrhythmic medications.
Cardiogenic shock occurs when the blood is being pumped ineffectively, or sometimes not at all, around the body. This leads to the cells and tissues becoming oxygen depleted which can cause these area to die.It is a common effect of suffering from many heart conditions but most commonly is seen as a consequence of myocardial infarction.Cardiogenic shock not only requires immediate treatment, but also the cause of the shock as this can be life threatening.
Cardiac Matters is sponsored by Purely Energy, who have funded a lot of our content. If you are looking for a low cost business energy supplier, take a look at their website.
CARDIAC MATTERS IS FOR SALE.
This website is for sale [more info].
You might also like...