Why is High Blood Pressure Bad for the Heart?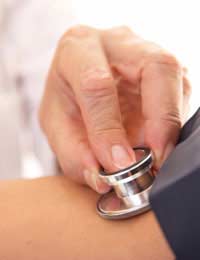 Heart disease is one of the biggest killers in the developed world. Having high blood pressure is one of the factors that contributes to heart disease. It is often called the silent killer, because it produces no specific symptoms if you have it. So, why is high blood pressure so bad for you, and why is it so dangerous for your heart?
Harmful High Blood Pressure
If you have normal blood pressure, you have a reading that is about 120 over 70 when you visit your GP for a routine check up. This means that the force of the left ventricle of the heart pushes blood out into the body with a pressure of 120 millimetres of mercury. The right ventricle pumps at the lower pressure of 70 millimetres of mercury because it pumps blood only from the heart to the lungs, which is not as far.
If you have high blood pressure, your blood vessels tend to be a bit narrower and it takes more effort for your heart to push blood around the body. The heart has to work a lot harder, and push out the blood with more force. If you have high blood pressure, your reading at the GP can be something like 160 over 100, which shows the extra pushing that the ventricles are doing with each individual heart beat.
The trouble is that the heart compensates to push round the body with much more force, but it usually overdoes things. Blood that gets to important organs such as the kidneys is at far too high pressure and the delicate parts of these important organs get damaged. The kidney is very prone to damage, and can fail. The eyes are also susceptible and the continued high pressure causes fatty plaques to build up on the inside of the arteries, causing further narrowing of the major blood vessels.
Hardening of the Arteries
The process by which arteries narrow and fatty plaques build up inside them is called atherosclerosis, or hardening of the arteries. High blood pressure is not the only cause. A bad diet, high in saturated fats and cholesterol provides the excess fat in the blood that sticks more easily to the inside of the arteries, but high blood pressure makes it much more likely that that will happen.
As the plaques build up the walls of the blood vessels become far less elastic and are less capable of expanding to fill with more blood. Instead of being soft and expandable, they become rigid, or hardened. This causes problems as it stops proper blood flow to the major organs and to the skin in the fingers and toes, causing circulation problems. It also slows down the blood flow through the blood vessels themselves, and if the blood flow slows down a lot, clots of blood can start to form. These can block major blood vessels in the heart, causing a heart attack, or in the brain, causing a stroke.
How to Prevent High Blood Pressure
Sometimes, people who have a very healthy lifestyle develop high blood pressure because of genetic factors and they need drugs to help control their blood pressure and keep it within normal limits. Many other people would have normal blood pressure if their lifestyle was not so unhealthy. Being overweight or obese is one of the things that make it much more likely that you will have high blood pressure. To try to avoid it, it is best to eat a healthy diet, low in fat and high in fresh fruit and vegetables, and to do plenty of exercise on a regular basis. It is also important to cut down on excess salt in the diet, which means avoiding highly processed foods as these tend to be high in salt as well as excess fat.
If these measures don't work successfully, then your doctor will suggest that you use drugs to lower your blood pressure. New drugs have been developed in recent years, such as the ACE inhibitors, which are more specific and have less undesirable side effects.
CARDIAC MATTERS IS FOR SALE.
This website is for sale [more info].
You might also like...