Heart Health: Moderate Drinking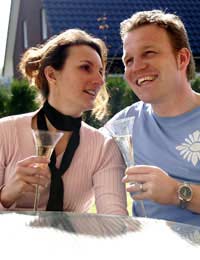 Enjoyed socially, drinking is a part of life that can bring pleasure and relaxation to many people. In large quantities, however, it can be dangerous and seriously affect our health.
How Does Alcohol Affect The Heart?
In small quantities, studies have shown that alcohol can in fact have a beneficial effect on the heart as it helps to prevent blood clotting, reduces the likelihood of blockages of the arteries caused by plaques and can help increase the good type of cholesterol in the blood.The amount consumed for this protective amount is no more than three units per week.
Drinking alcohol everyday or in large amounts can have a seriously negative effect on health. The heart can become enlarged and less efficient with alcohol consumption and blood pressure can become dangerously high. Heart failure and stroke are both more likely and it can also increase the presence of fatty substances in the blood leading to angina and heart attack.
How Can I Limit Alcohol Consumption?
Alcohol consumption can be easily moderated by ensuring that it is not bought in excessive quantities. When in a restaurant or pub, allow yourself one unit with your meal, or as a first drink then switch to a softer drink.
Try not to buy and bring alcohol into the house as this will prevent temptation. If alcohol is purchased, mix it with soda water or lemonade and make longer lasting drinks with it.Many manufacturers are now making alternative and less strong versions of their most popular brands, they taste very similar and contain a lower alcohol content.
If alcohol is being relied upon to help manage stress, try and find other ways of coping, such as exercise, yoga, relaxation or through participation of alternative activities.
Sometimes the best option for lowering your alcohol intake is to make changes in your social life. If most of your free time is spent at the pub, eating out or with friends who drink regularly, it may be time to pursue other hobbies that have a more beneficial effect on health shared with like-minded people.
Considerations to Remember
Always check with your GP if any existing medications being taken are safe to take when alcohol is being consumed. Many drugs, such as anti-biotics, are contraindicated with alcohol and can be dangerous and detrimental to health.
Children should be educated about the dangers of alcohol from a young age as binge drinking in the young is increasing every year.Age can play a role in alcohol awareness as it has been proven that older people cannot metabolise the alcohol as quickly and as effectively as the young so they may suffer the effects more quickly and for longer that their younger counterparts.
If you do not drink, it is best not to start, even if it is to enjoy the benefits of moderate alcohol consumption. There are better and safer ways of looking after your heart.Drinking alcohol can cause people to forget to take vital medications, some that can protect them from angina and heart attacks.
Although drinking alcohol is thought to have a positive effect on health, the amounts for this to occur are minimal and so low that most drinkers would find it difficult to limit themselves. Finding other areas of our lives to reap these benefits is most advisable and drinking should not be encouraged in the first instance.
You might also like...