I Had My Cardiac Enzymes Measured: A Case Study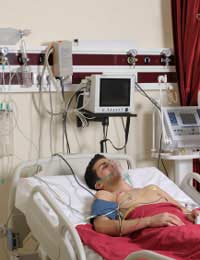 Tony first became aware that something was wrong when he was watching TV at his home in Reading. "I had been feeling tired, but nothing unusual and my left arm was aching. I put it down to having pulled a muscle or something like that. As I watched a film with my wife, I started to feel much worse and my arm and chest began to feel very painful. My chest felt as though someone was sitting on it and I struggled to breathe," says Tony. He was having the classic symptoms of a heart attack and his wife Helen acted quickly, called 999 and an ambulance arrived within minutes from the Royal Berkshire Hospital.
Arrival in Accident and Emergency
Helen travelled in the ambulance with Tony, keeping out of the way as the paramedics monitored his heart rate and gave him oxygen. They were at the hospital within 15 minutes and Tony was rushed to the cardiology emergency team. "By this time, I was feeling more panicky and realised that this could be it for me – it sounds melodramatic, but it did worry me that I was not going to make it," remembers Tony.
So many monitors were hooked up to Tony that he now jokes that he was using up most of the electricity being produced by the national grid that night. With emergency treatment, his condition was stabilised quite quickly and then the doctors began to do some tests to see how bad the heart attack had been. "The cardiologist explained that some key cardiac enzymes were going to be measured. He said that this would help them to find out whether this had been a mild heart attack, as they suspected, or if it was more serious than it seemed," says Tony.
Cardiac Enzymes Measured
Cardiac enzymes are molecules that are released as heart muscle dies, as it does when a blockage in a coronary artery cuts off the oxygen to heart muscle during a heart attack. The most reliable blood marker for heart muscle damage is a protein called troponin. This is a protein released only by heart muscle that has died; it is never normally present in blood but levels do rise after a heart attack. The higher the level of troponin in the blood within hours of symptoms of a heart attack, the more severe the cardiac episode has been.
"The test itself took some of my blood and it was sent off to the biochemistry labs. As well as troponin, other cardiac enzymes were also measured," he recalls. Other markers of a heart attack include creatine kinase, lactate dehydrogenase, myoglobin and natriuretic peptides. Afterwards, Tony did some research on the internet and found out that the levels of troponin I and troponin T in the serum of people who have suffered chest pain can predict those most likely to die from their heart attack. "I didn't realise it was such a big deal at the time and Helen just thought it was a standard test. When the results came back that no troponin had been detected, we didn't realise the significance at first," explains Tony.
No Troponin, Good Prognosis
Later, the cardiologist in charge of Tony's care took more time to explain the results and told the couple that the lack of troponin in Tony's blood was a very encouraging sign. It meant that his heart attack had been fairly mild and, because he had been rushed to hospital so quickly after his symptoms worsened, there was less damage to his heart muscle than their might have been with a delay. "That made me feel better, although it was still a long time before I was on my feet again. I feel I now have to care about my health much more and I have done a full cardiac rehabilitation program. With regular exercise and healthy eating, I hope to avoid ever having to repeat my experience," says Tony.
You might also like...