I Had a Cardiac Angiogram: Case Study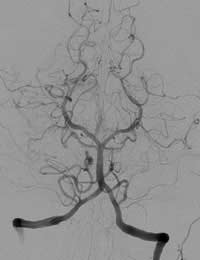 "I was extremely nervous the day I went for my cardiac angiogram but, looking back, I realise I had no need to be worried. The whole procedure took less than three quarters of an hour and when I had my follow up angioplasty, I was then told I had clear coronary arteries again – it was a great relief," says Tony. Tony was one of the thousands of patients who have a cardiac angiogram every year in UK hospitals.
What is a Cardiac Angiogram?
A cardiac angiogram is basically an X-ray examination of the arteries that feed the heart muscle. As we get older, particularly if we have eaten a fairly unhealthy diet and done little exercise for years, fatty plaques can build up on the inside of all arteries in the body. This causes the narrowing that cuts down blood flow and if this happens in the thinner and smaller arteries of the heart, the result is a heart attack. Blood that carries oxygen can no longer supply a piece of heart muscle, which then starts to die. Having a cardiac angiogram to find out if the coronary arteries have significant narrowing is a good way to prevent heart attacks as treatment can be given before things get too serious.
Preparing for Coronary Angiography
The day before his angiography, Tony had to visit the hospital outpatient department where the procedure was to take place to have a blood test and an ECG to make sure that he was well and his heart was functioning normally. Cardiac angiograms do carry some risk – they are normally safe, but if someone has a heart problem that is undetected, the angiogram can be more dangerous.
Tony had also been told to take an anticoagulant, warfarin, to thin his blood. "I had to take the warfarin tablets for a week before the procedure, and then I could stop. I had to sign a consent form to agree to the angiogram and I was told not to eat a heavy meal the next morning as my angiogram was planned for 11am. To be honest, I was so scared and anxious, I couldn't face anything anyway," remembers Tony.
The Day of the Angiogram
The next day, Tony arrived at the outpatient cardiology department an hour before he was due to have the angiogram. His blood pressure was checked and, as he was feeling nervous, the nurse in charge asked him if he would like a mild sedative. "I am quite squeamish and when they said that if I wanted to I could watch the progress of the dye through my arteries on the screen, my heart rate must have tripled," says Tony. After having the sedative, which didn't put him to sleep, just made him very relaxed, he was prepared for the angiogram.
"I had a very thin tube called a catheter inserted into one of my arteries. The point of insertion was in my groin and I had a local anaesthetic there to prevent any pain and discomfort as the catheter was inserted and manipulated," explains Tony. The cardiac specialist then guided the catheter through the main arteries of Tony's body until the tip was just inside the main coronary artery.
"All this time, I was under a low-dose X-ray machine that was taking lots of pictures and these were displayed as a moving picture on the screen so that the surgeon could see where the catheter was going," says Tony, who was aware of what was happening and was unusually interested, despite being squeamish. "The sedative made it seem like it was all happening to someone else – I felt as though I was watching TV, so I wasn't concerned at all," he says.
After the Angiogram – a Balloon Angioplasty
As the medical team watched as the dye filled the coronary arteries and all of their tiny branches, they could see that two of Tony's coronary arteries did have some narrowing. The blood vessels were about 50% blocked by a fatty plaque so Tony was booked in for a follow up angioplasty three weeks later.
"I then had to go back but, this time, I was far less nervous as I knew what to expect. The procedure felt similar but a balloon was attached to the end of the catheter to expand the problem areas in my coronary arteries. That did the trick and I got the all-clear. I also feel a lot better too – less tired and I don't get any angina now. It was well worth it and I have avoided having a coronary artery bypass," concludes Tony.
You might also like...