My Sister Had a Heart Transplant: A Case Study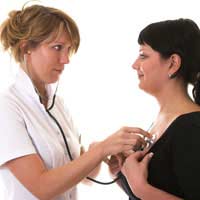 The birth of a first grandchild is usually a cause for great celebration and this was certainly true in Maria's family. "When my older sister had a baby girl two years after she married, my parents were over the moon and I was quite pleased to be an aunty. I was only 18 at the time, and I still felt too young to be thinking about having a family but it was really nice to have a baby in the family," says Maria.
Any parent expects to feel tired when they have just had a baby and Maria's sister Rosa thought nothing of that fact that she was really exhausted. "Rosa did seem to take long time to get over the birth but she did have a hard two day labour and we all took turns to help out," explains Maria.
Emergency Dash to Hospital
When baby Alicia was only 3 months old, Rosa started to complain of really bad shortness of breath. "I was with her one afternoon and she was gasping for breath and her lips turned blue - I called my dad and he came straight over and went with her in the ambulance while I stayed with Alicia. Rosa had not been breastfeeding for a while so I had all the bottled milk I needed but I was really worried and panic stricken that I had sole care of a tiny baby," says Maria.
At the hospital, the news was bad. Rosa had a rare condition called cardiac sympathy of pregnancy. When she was carrying Alicia, her heart had become damaged and was no longer able to work properly. She was very ill and needed urgent treatment to make her heart beat more strongly and to lower her blood pressure, which was dangerously high.
Rosa was immediately placed on several cardiac drugs to try and help her stabilise and had to stay in hospital for a week. Then, with instructions to take digoxin every day and a drug too keep her blood pressure low, she was allowed home. "We were all shocked that she had such a serious condition and did what we could to remind her to take her tablets every day. She had to go back and see a cardiologist and she continued to have episodes of shortness of breath and extreme tiredness over the next few weeks," says Maria.
Cardiac Problems Worsen
After Rosa had been admitted to hospital twice more, the cardiologist told her that her heart was beginning to fail completely and that she would need to be placed on the waiting list for a heart transplant. "That was another big shock and we all had to go along to a family meeting to talk about what it meant. It was obvious that we all needed to work together as a family to get my sister through this, or we faced losing her completely," whispers Maria.
Day of the Heart Transplant
Just three months later, a suitable donor heart came up for Rosa and she was prepared for the operation in just a few hours. The family faced an anxious wait during the complex operation but were pleased when the medical team told them that she had come through the surgery very well. "It was a very worrying time and Rosa was in hospital for nearly a month. She had some complications after a couple of weeks but got over that and was Ok to come home," remembers Maria.
Life After a Heart Transplant
"I knew that the heart transplant would make a big difference to Rosa's health and it has. She regained some of her old energy and she doesn't get as tired any more. She has a strict exercise program and is getting stronger all the time. It will be a year ago next month that she had her new heart and we are so pleased that she is doing well," says Maria. Rosa now has to take a huge number of medications to stay healthy, most to suppress her immune system to stop her rejecting the new heart but, so far, she has been a model patient.
"The cardiologist told us that he had done a heart transplant on another young mother the year before and she had died as a result of organ rejection at the age of 21 after refusing to carry on taking her drug treatments. She rejected her new heart within six months and left two children under three - what a shame. Luckily Rosa realises how lucky she is to have had this second chance and we are all working with her to make sure she sees her daughter grow up," adds Maria.
You might also like...