Rheumatic Heart Disease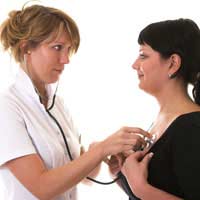 Rheumatic heart disease occurs as a consequence of rheumatic fever, which is an inflammatory condition affecting many of the body's tissues including the heart, brain and joints. It can affect anyone of any age or background but is more commonly seen in children.
What Exactly Is Rheumatic Heart Disease?
Rheumatic fever develops as a consequence of a strep throat infection that has progressed and been left untreated.
Rheumatic fever has the potential of leading to rheumatic heart disease meaning that the valves of the heart can become diseased by the disorder and may become so inflamed that they cannot close fully or open properly due to stiffness. This can cause the blood in flow ineffectively through the valves and can also contribute to blood leaking backwards through the valves resulting in an accumulation of fluids. These fluids can cause enlargement of the heart and can lead to fluid build up in the lungs and on the limbs causing swollen ankles.
Signs and Symptoms
As the condition affects mainly the valves of the heart, the symptoms are similar to those with other conditions of the valves and can include dizziness, chest pain, shortness of breath and tiredness.For some there may be no symptoms initially, but they can develop over time and must be treated when necessary.
Treatment Options
Once rheumatic heart disease has been diagnosed, it can be treated using either medication alone or combined with surgery. The medications given will include the use of diuretics (water tablets) to reduce the build up of fluid from both the lungs and limbs, and also the use of drugs to reduce the workload of the heart aiming to increase the output of blood from the heart hoping to reduce the enlargement and increase it's productivity.
For others, surgery may be the best option and can include the need for open heart surgery to repair or replace the damaged valve. If the damage can be reversed or removed the valve may be repaired when possible. For those valves that are irreparable, the use of prosthetic devices may be required.
Preventing Rheumatic Heart Disease
For those with throat infections that do not resolve themselves after around one week, medical advice from the GP should be sought in order to discuss the use of anti-biotics. Your GP may want to assess and swab the throat to determine the type of infection before prescribing medications, so as to avoid their unnecessary use and to also determine the most effective type of drug for the infection.
If symptoms are left untreated and develop further, symptoms of rheumatic fever may develop after around two weeks. These symptoms include red and swollen joints, headaches, tiredness and dizziness. If any of these symptoms occur seek medical advice in order to receive treatment before rheumatic heart disease can develop or progress.
Rheumatic heart disease is a very serious effect of rheumatic fever, which can develop due to a throat infection that has been left untreated. Fortunately, the incidence is low due to the use of anti-biotic therapy, and anyone with a throat infection that lasts longer than a week should seek medical advice as a preventative measure.
CARDIAC MATTERS IS FOR SALE.
This website is for sale [more info].
You might also like...