I Lost a Friend to Sudden Death Syndrome: A Case Study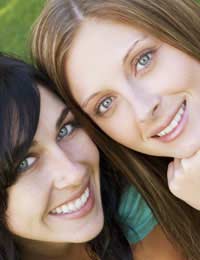 Frances was only 29 when she died, leaving her husband with two small children. Fran's friend Maggie still remembers hearing what happened like it was yesterday, but 15 years have now passed. Fran's eldest daughter is about to go away to university.
"I was at home with my own daughter who was only 13 months old at the time. The phone rang and I never expected to hear Fran's husband telling me that he had some bad news. A few things flashed through my mind – maybe something was wrong with their new baby, who was only 9 weeks old. But then he told me – Fran had suffered sudden death warming up at a post-natal exercise class," recalls Maggie.
Sudden Death
Fran's husband James told Maggie that she had gone out to her first exercise class after their son was born. She had always been very fit and had run a half marathon for charity two years earlier. The exercise class was gentle and she had been warming up when she suddenly collapsed.
"The instructor thought she had fainted but then it became obvious she wasn't breathing and one of the other people at the class called 999 straight away. They also phoned James but just said Fran had collapsed. When he got there, as he thought, to pick her up, the paramedics were there doing resuscitation. He told me that he knew then she had gone," says Maggie.
Despite the best efforts of the paramedic team, nothing could be done to restart Fran's heart and she was declared dead at the scene at 8.43 pm on October 4th 1994.
Investigations Reveal Sudden Death Syndrome
When he got home, James phoned Fran's parents and had to deliver the worst news they have probably ever received. They went straight over, driving the 20 miles to Fran and James house in a state of shock. "I have known them ever since we were about 8 and I am very fond of them both – this has broken them and they are only a shadow of the people they once were," says Maggie.
The next day, Fran's mum helped James tell their daughter, who was nearly 4 that she would never see her mum again. The new baby was oblivious, thankfully but has had to grow up never knowing his mum, which has been very hard.
Before the funeral could be arranged, a full post mortem had to be carried out as Fran was so very young to have just died for no reason. And, of course, there was a reason – but it was a million to one chance. Fran had probably had a viral infection two or three weeks before and had developed a post viral heart muscle weakness. "It could have happened any time, it wasn't the exercise class warm up because she hadn't really done anything. The left ventricle of her heart just split open and she lost blood pressure immediately. She became unconscious almost immediately and died within minutes – there was never any hope of saving her," says Maggie.
What is Sudden Adult Death Syndrome?
This type of catastrophic heart failure is classed as Sudden Adult Death Syndrome or Sudden Cardiac Death Syndrome a condition that is extremely rare but that affects young people, typically those who are fit and healthy. Some victims are teenagers playing sports, who just keel over on the field. Sudden death in athletes so young is hard for everyone concerned.
One form of SDS can occur in young people who have problems with the electrical control system that tells their heart when to beat. It takes longer for their electrical system to become charged up again, so they are prone to their heart just stopping. Sudden deaths in these cases can be prevented by quick action.
"If Fran had had this sort of SDS there is a chance that the paramedics could have saved her, as they have saved others. But there is no use wondering 'what if?' – we have all carried on without her and James remarried after 8 years, giving her two children a lovely step-mum and a new step-sister. But no-one will ever replace her as my best friend," says Maggie.
You might also like...